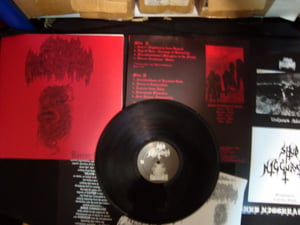 $

16.00
SIDE A
1. Intro/nightmares from beyond 06:15
2. Hybrid Race 04:11
3. Disembowelment 04:30
4. Horror Creatures 05:49
Tracks takes from "Horror Creatures" Demo 1989

SIDE B
1. Abobinations of the ancient gods 04:52
2. Demons Conjurations 04:10
3. Legions from absu 03:48
4. Unnamable evocation 02:35
5. Subhuman Immortality 04:31
Tracks from "Unknown Adorer" 7" EP &
"Blasphemies of Nether World" 7" EP 1992
After 20 years after the demo & EPs released..now for first time is
edited in vinyl.
Includes "Horror Creatures" Demo 1989 , "Unknown Adorer" 7" EP & "Blasphemies of Nether World" 7" EP 1992
An essential work for those who still yearn for the authentic feel and blasphemous metal bands to the early 90's.
Exclusive limited edition of 300 pieces, hand numbered, includes insert, A2 poster and sticker !
A MASTER PIECE OF DEATH METAL MADE IN MEXICO,
A DEFINITE MUST !!!
Extra Repress to 150 copies.
In a red cover !
AVAILABLE IN SEPTEMBER 15TH !!!!