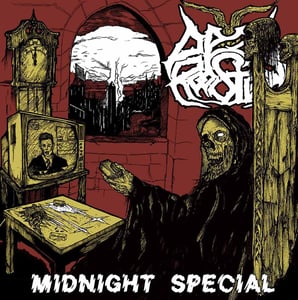 $

9.00 - On Sale
Tracks:
1. Black Rubicon
2. Nuclearwitch
3. Strike of the Sodomizer
4. The Basilisk
5. Order of the Frostnaked
6. Cronos Aggresor
7. Night of the Usurper
8. Atomic Worship
Lo sombrio del Doom y los corrosivo del black se turnan en este CD como los viejos tiempos!!
Un año después de la salida del EP "Witches of Belial" llega el primer disco de los DEAD ROOSTER, una banda oriunda de la ciudad de Buenos Aires que se postula como fiel practicante de esquemas musicales arraigados en lo más tradicional del black metal.
No obstante a esa propuesta no faltan los guiños hacia el post-punk, el Doom Metal con cierto dejo de speed metal. Todo esto se deja entrever en sus composiciones, y si se tuviese que dar ejemplos no me temblaria el pulso al nombrar a bandas como Bathoy, una de sus más grandes influencias, aunque tambien se encargan de rendir culto de manera casi indirecta a titanes como Celtic Frost, Hellhammer, Motorhead y Darkthrone !"
// ENGLISH //////////////////
"The shading of Doom and the black corrosive take turns on this CD like the old days!
DEAD ROOSTER is practicing musical schemes rooted in the more traditional black metal.
However this proposal is no lack of allusions to the post-punk, the Doom Metal with some left of speed metal. All this is foreshadowed in his compositions, and if I were to give examples pulse did not tremble when naming bands like Bathoy, one of his biggest influences, but also are responsible for almost worship so indirectly titans like Celtic Frost, Hellhammer, Darkthrone and Motorhead ! "